We have over 1000 Shell Service Stations in the UK.
To find your nearest station you can use the Shell website and Shell App.
They both feature a Station locator where you can search and find your nearest Shell Service Station.
Using the Shell App, follow these 5 steps:
on the home screen tap 'station locator'
using search type the location or zoom into your chosen area on the map


then tap 'show stations in this area' which will appear with Shell location fuel pins.
If no stations are available in the search area it might be there are no Shell service stations in the area or try searching again in the search bar.
4. Tap 'filters' to select services required at the station.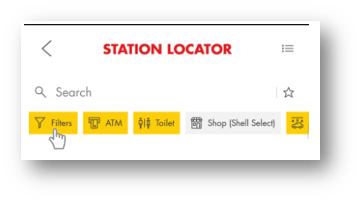 5. Select services including toilets, cash machines and shop to Fuel filters such as Unleaded,
Shell V-Power, Shell Unleaded