To ensure your device is set up with the right permissions for the Shell App to successfully operate using Shell Go+, Pay at Pump and Station Locator, follow these steps:
For Android:
On your mobile device tap Settings


Scroll down Settings and tap Applications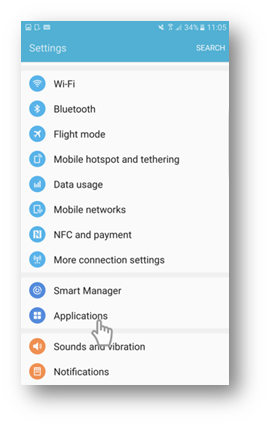 3. Select Shell App
4. The Shell App will open with a list of app related settings. Tap Permissions
5. Check through the list of permissions – if they are grey they are not switched on.

Make sure you slide Location and Telephone settings to the right. They will turn from grey to blue.
6. You can also set push notifications which appear as screen messages on your device. To change preferences, tap back to Shell App as shown in Step 4 and tap Notifications.


To receive notifications slide 'Allow Notifications' on (showing in blue at the top)
For IOS:
To switch on GPS find the Settings cog, which looks like this

, then:
1. Scroll down the list of apps and select the Shell App
2. You can then change permission