to use station locator so that we can show where your nearest Shell station is.
to use Pay at Pump so that we know when you are at a Shell station for you to enter the pump number and use the service.
GPS means 'Global Positioning System' and it locates your exact position to precisely find a Shell station closest to you.
Without GPS - the location icon on your device, finding your nearest station or planning your route won't be as accurate.
For Android:
To switch on GPS find the Settings cog, which looks like this , then scroll along the dash where it shows wi-fi, location, sound etc
Scroll down Settings and tap Applications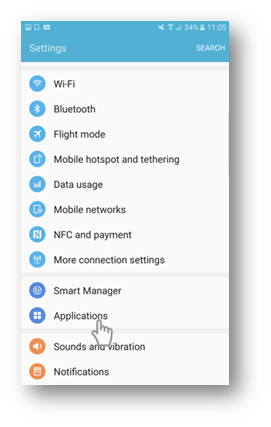 Select Shell App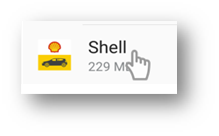 4. The Shell App will open with a list of app related settings. Tap Permissions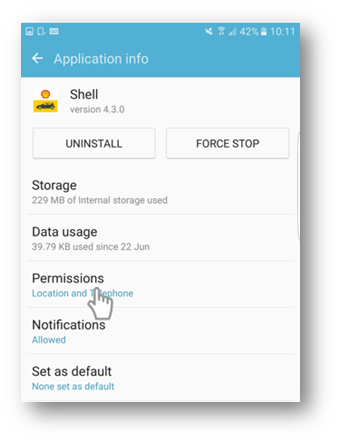 5. Check through the list of permissions – if they are grey they are not switched on.
Make sure you slide Location settings to the right. They will turn from grey to blue.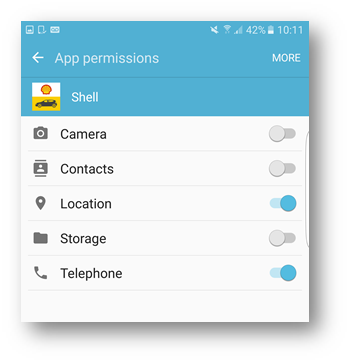 Tap the Location icon to turn on
Tip: on Android: if the location icon is greyed out GPS will be off – if it's shown in blue it's on.
For IOS: To switch on GPS find the Settings cog, which looks like this
, then
1.Scroll down the list of apps and select the Shell App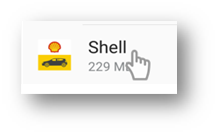 2.Select Location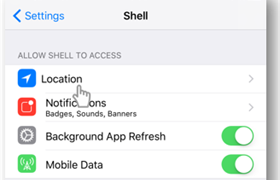 3. Click 'While Using the App' to allow location access